Last year, when I acquired access to HBO through...methods,
I was able
to get through a good number of the well-regarded shows; not giving a solitary shit about
Game of Thrones
certainly helped save time. Though I liked most of what I watched, it was pretty clear that the first season of
Silicon Valley
climbed to the top of the list, ultimately landing as #4 on my
Top Shows of 2014
.
I was highly anticipating the second season, but worried that it might go through a pretty heavy sophomore slump after all the praise heaped on it during their debut season. Thankfully, that didn't happen, and while Season 2 didn't reach the heights that Season 1 did, it was still a really enjoyable batch of episodes. I can easily get tired of shows that
relentlessly beat up
on their main characters, but
Silicon Valley
always knows when to throw its beleaguered heroes a lifeline.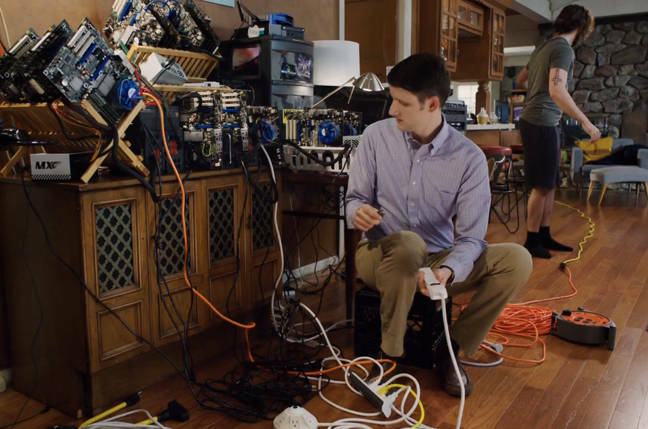 That doesn't mean that Richard and his pals had an easy time of it. Pied Piper is getting sued by Hooli, having their ideas stolen by competitors, and fighting off sharks who want to make a buck off their efforts. Through it all, they manage to just barely hold themselves together, often snatching victory from the jaws of defeat.
But one of the things
Silicon Valley
does well is to have its characters snatch defeat from the jaws of victory just as often. On any other show, Dinesh and Gilfoyle would get away with casually discussing allowing a jerky daredevil to die instead of informing him of the miscalculations he's made in his stunt planning. On
Silicon Valley
, they immediately get called on it.
As I mentioned, the laughs didn't come as powerfully or as often as they did in the first season, but that's balanced out by a marked improvement in the actual storytelling. The travails of Pied Piper make for an entirely believable arc, and the cast got rounded out by some much-needed female perspective. Suzanne Cryer, in particular, doesn't get a lot of screen time, but steals every moment she's in as Laurie, the direct, socially inept CEO of Raviga.
There's been a lot of quality television this year, so I don't know if
Silicon Valley
is going to make the Top Five this time around. But it's still a hell of a lot of fun, even without a metric ton of dick jokes. But seriously, you guys? I kind of miss the dick jokes.
Silicon Valley - Season 2: B+