When I reach the end of a television season, I write a review of it. Simple, right? But there's a category of TV that has fallen through the cracks: The flame-outs. I'm already doing this for
books
, so why not mention the TV shows that will not be getting a grade? Even a bad one! Maybe these shows aren't canceled in the official sense, but when it comes to my personal TV schedule, they've been yanked. Now that I've established the premise, I'll completely ignore it, and open with an exception to the rule:
The Show
:
The Suze Orman Show
The Pitch
: A talk show about financial advice
How Far Into It I Got
: The show had more than 600 episodes, and while I wasn't a regular viewer, I liked to check in with it pretty often, even if it was by listening to it in podcast form during my commute.
What Went Wrong
: Nothing. The series ended this past week. Orman could sometimes get on my nerves, focusing more on psychology than the money advice people were calling in for. In general, though, I enjoyed her and the show's format, and can't deny that I picked up very useful tips. I'll definitely be checking out her new show when it rolls around.
OK, so like I said, that's more of an exception, because it's a show that ended naturally. On to the more...abrupt finales.
The Show
:
Fresh Off the Boat
The Pitch
: A comedy about a Taiwanese family trying to make their way in America during the 1990s.
How Far Into It I Got
: Season 1, Episode 8
What Went Wrong
: The show's got some good heart to it, and has actively made me laugh out loud more than once. 98% of those laughs come from Constance Wu (as fierce, no-nonsense mother Jessica). Two major strikes have taken it down, though. I don't want to suggest that all comedies starring non-white actors are ripe for comparison, because they're not. But all of the how-do-we-fit-into-society jokes this show and
Black-ish
strive for are virtually identical in terms of tone and cadence, and
Black-ish
does it so, so much better. Plus, and it brings me no joy to say this, the show centers around Hudson Yang, whose performance is gratingly obnoxious.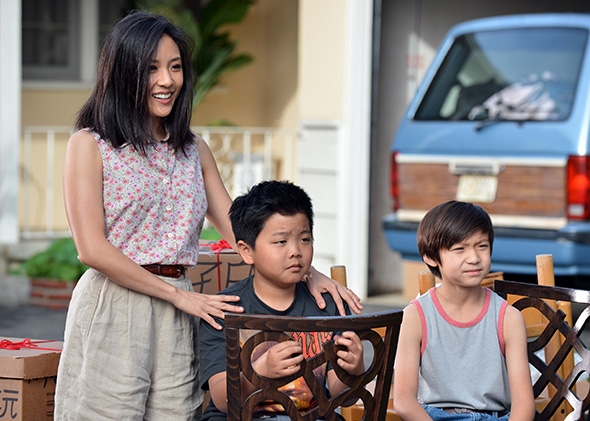 The Show
:
The Last Man on Earth
The Pitch
: A Will Forte comedy about a man who believes he is the sole human remaining, and how he handles things when the people he so desperately wished to see finally show up and aren't what he imagined.
How Far Into It I Got
: Five minutes into Season 1, Episode 8
What Went Wrong
: Oh my God, this had such promise. The first few episodes were terrific. Forte plays Phil Miller who has all the fun that can be wrought out of living in a consequence-free world, and only wants company. When his wish is granted in the form of Carol (Kristen Schaal), a ton of comedy is mined from the fact that they could not be more ill-suited for each other. Even more possibilities are opened up when beautiful Melissa (January Jones) shows up, shortly followed by nice-guy Todd (Mel Rodriguez). So what did they do with these possibilities? They turned Phil into the biggest asshole in the world. It started as a daring show about the absurd rules and compromises we'd make if society as we knew it vanished. It then abruptly shifted into a hacky, mean-dumb-guy-gets-his-comeuppance cringe comedy. After three episodes of our "hero" being an insane twat, learning his lesson, then reverting to being an insane twat, I gave up.