Normally, the charts and spreadsheets and guides surrounding the fall TV season would consume me. I'd pore over magazines and websites, planning out the perfect schedule to maximize the number of shows I'm able to keep up with. Unfortunately, this year, I have to take a more surface-level look at the fall schedule. It's not that there aren't a number of shows that have grabbed my interest. But a combination of a new position at the lab, keeping up with
podcast
work, and attempting to maintain some sort of social life has led to less time to laze around watching TV. I know, I have the most difficult life ever. Pity me!
Sunday
Sunday contains two of my beloved
B-shows
, so obviously, I'll be signing on for
Bob's Burgers
(Season 6) and
Brooklyn Nine-Nine
(Season 3). Clearly, football is going to screw with the scheduling, so I should mention that for most of the shows I mention in this post, I'll be streaming them after they air. Both of these shows have already begun their new seasons, and they're both off to a great start.
The only new Sunday show to catch my interest is
Quantico
, which has been heavily hyped. That normally means the show is pretty terrible, but that's not always the case (see Tuesday). The show centers around a class of FBI recruits who become the main suspects in a terrorist attack. If I'm able to carve out enough free time, I'll check it out, but the fact that it's attracted the nickname "Grey's Academy" does not inspire confidence.
Monday
I wasn't alive when the Lynda Carter
Wonder Woman
premiered, so I've never gotten to enjoy a good female-led superhero show (Yes, I'm aware of that
Bionic Woman
attempt a while back - I said a GOOD show). I have no idea if the new show
Supergirl
will work or not, but it's at least worth checking out.
Tuesday
So, I just mentioned that over-hyped shows tend to be the worst, but the show I've seen the second-most hype for is
The Grinder
, and the pilot episode was...pretty good, actually! (For the curious, the most-hyped show is
Grandfathered
, and not even my love of Paget Brewster has managed to get me invested in that one.)
The Grinder
stars Fred Savage as a small-town lawyer with zero charisma, and his TV star brother (Rob Lowe), whose show about lawyers just ended and is looking for his next great act. He comes home and begins to assist his reluctant brother in real life cases, and while this show could easy be grating and obnoxious, I decided to watch the first episode, and was pleasantly surprised. I wouldn't call it appointment television just yet, but for those put off by the annoying commercials, give it a chance.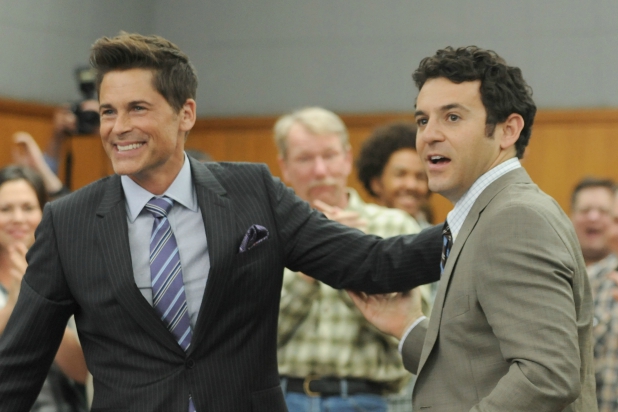 Wednesday
Sure, why not mention
Black-ish
for
three
posts
in a row? Season 2 has just begun, and they've already tackled gun ownership and the N-word, so it's clear they're not losing their edge.
Black-ish
easily made my Top 5 list last year, and if they continue the streak they're on, they'll no doubt make it again.
Thursday
I loved the first season of
Heroes
, but quit the show in disgust midway through Season 2, and given what I heard about what came afterwards, I made the right choice. Tim Kring and company are trying again with a reboot called
Heroes Reborn
, and I have to admit that morbid curiosity has pulled me back in. Curiosity only lasts so long, though, and the first couple of episodes displayed some of the problems that drove me away the first time. By the same token, they weren't half as bad as they could have been, so I'm going to cautiously stay invested for now. I maintain the right to bail at any moment, though.
There's also a curious new show named
Angel From Hell
, starring Jane Lynch as a guardian angel tasked with watching over Maggie Lawson. I like both actresses, and the show is from Tad Quill, who had a lot of success with
Scrubs
. All I know about the show is that Lynch's character is supposed to be kind of a mess, and not good at her guardian job. It's intriguing enough to look into, and I'm hoping for good things, despite the fact that it's on CBS, which isn't exactly known for their daring comedies.
Friday
Nothing. Go outside!
Saturday
The Great British Bake Off
has been going strong over in England for a while, but as far as these United States go, its import name,
The Great British Baking Show
just began Season 2. Season 1 got a rare A+ on this blog, so how could I not be in for another season? This is, bar none, the best reality show currently airing, and don't worry about making fun of me for saying that a British show airing on PBS has earned that honorific. I'll beat myself up later. After I watch this amazing show.
Streaming
If you haven't been watching
Miss Fisher's Murder Mysteries
on Netflix, you need to begin immediately. It's been one of my favorite shows lately, and Season 3 just became available.
Maybe Catch Up Someday?
Fargo
got a lot of great word-of-mouth last season, but I never got around to it, so there's no point diving into Season 2 just yet, but I hope to catch up with it at some point. The same goes for
The Good Wife
, which will be far more work, as it's going into Season 7.
Jane the Virgin
will be putting up its first season on Netflix soon, so it's clawed its way onto my list, though probably not in time for me to check out Season 2 just yet.
As far as new shows go, maybe I'll look into
Blindspot
if I trip over a pot of free time. And the new version of
The Muppets
has not been reviewed kindly, and I'd hate to taint my fondness for the franchise, so I may stay away from that one, but who knows? Maybe I'll wind up taking a peek at it. Or maybe I'll wander off to test a new chili recipe. Who would have ever though the glowing idiot box would lose its hypnotic power over me? Scary.