Netflix has a complicated history. Renting out discs that I could keep as long as I wanted? Great! Adding an Instant Streaming catalog? Wonderful! Not having an option to automatically add things to both disc and instant queues? Stupid! That plan a year or so back to split into two separate entities? Awful! So, when I learned that they'd be producing original programming, I was a little suspicious. Would this company be able to put out anything watchable?
Happily, the answer turned out to be a
resounding yes
! Now that the initial hurdle is cleared, all that remains is to take each new show on a case-by-case basis. I took a hard pass on
Hemlock Grove
, and am actively looking forward to
Wet Hot American Summer: First Day of Camp
. In the meantime, a quirky little comedy popped up.
Unbreakable Kimmy Schmidt
was created by Tina Fey and Robert Carlock (the team behind
30 Rock
), and stars Ellie Kemper (
Bridesmaids
,
The Office
, etc.) as a young woman who was imprisoned in an underground bunker as part of a doomsday cult for 15 years, and is only now rejoining the world. NBC had first crack at this show, but because NBC can't do anything that resembles a good idea these days, they passed, and Netflix snapped it up.
Kimmy decides to build a life for herself in New York City, encountering a cadre of wacky acquaintances, from her fame-obsessed roommate Titus Andromedon (Tituss Burgess) to her off-kilter landlady (Carol Kane) to her vapid, wealthy boss (Jane Krakowski). In a way, this show is very similar to
30 Rock
, except there are no grounded central characters for all the insanity to revolve around. In the world of
Unbreakable Kimmy Schmidt
, EVERYONE is insane in their own way.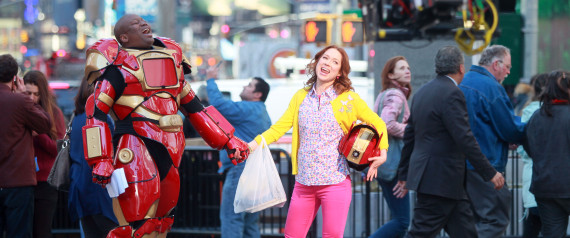 And that insanity pays off in spades. I have not encountered a show so relentlessly chipper and fun and so goddamn
quoteable
in a really long time. Everything is new to Kimmy, and her excitement about automatic faucets and phone technology and modern dating is infectious. The secondary characters all get a chance to shine as well, and it feels like the show found its groove early in the first season, which is incredibly rare. On a social science tip,
Unbreakable Kimmy Schmidt
accomplishes something else rare, too. This is a show that is very interested in the stories of being an Other. An Other race, an Other sexual orientation, an Other gender... In 13 episodes, I can think of two straight, white males that get more than five minutes of screentime total. And both of them are antagonists. That's fascinating and admirable to me, especially since the show gets away with doing this while still being hilarious.
If there are any downsides, they're relatively minor. Jane Krakowski's character starts off as a little too close to Jenna Maroney, though they broaden her story in an amazing way mid-season. The last couple of episodes aren't nearly as strong as the rest of the season, dragging out courtroom humor that would have been funny as an aside, but doesn't quite work as a hefty plotline. But really, that's about it. After watching the first episode, I was hooked, and binge-watched the entire thing in a weekend. And in the year we have to wait until Season 2 comes out, you can bet that I'll be watching it again. And probably again after that. Until then, I'll have to focus on the fact that my floor is warped, and all my cats are piling up in one corner.
Unbreakable Kimmy Schmidt
- Season 1: A-