When it comes to games (especially in the form of apps), the ones that I enjoy the most are the ones that require some brain power. You won't find me mindlessly churning away on a match-3
Bejewelled
knockoff or a tap-tap-tap-tap-tap-tap exercise in speed. I want a game that makes me think. Happily, I just found a couple, though their gameplay is vastly different. For those who like a good story to go with their puzzling, I heartily recommend
Device 6
. Much like
Gone Home
, the story is the most important element, making it more like interactive fiction than a traditional game. In
Device 6
, you play as Anna, who wakes up on a strange island, and must figure out how to get off of it. Much like
Myst
, Anna encounters signs of strange experiments and nefarious schemes, but never runs across any other actual people. Her memory is spotty, so she must rely on her (or rather, your) wits to find her way out.
What makes this game unique is the full advantage it takes of the platform. Phones and tablets are maneuverable, so the story's text literally wends off in multiple directions, forcing the player to turn the device sideways and upside-down to access certain sections. Nobody's going to be doing that on a television or desktop computer. It's a creepy, immersive experience that has beautifully sleek graphics and haunting sound. Unfortunately, it's a very short game; you could easily tear through it in a single afternoon, and once you've solved the puzzles, there's really no replay value. But with a sticker price of a few bucks, it's more than worth it.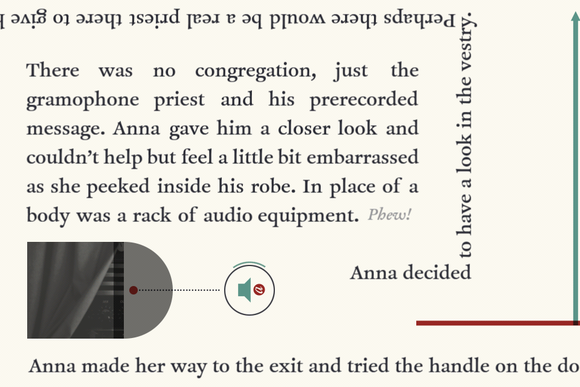 The other app is a more traditional game, focused purely on trivia. Trivia games are all about design. Some are just straight-forward, rapid-fire questions about general knowledge. Some are designed like a game show or party game (
You Don't Know Jack
is far and away the most successful of this subgenre). This newest one I've picked up is called
QuizUp
, and it's designed almost like a video game. Rather than answering a potpourri, grab-bag of questions,
QuizUp
is happy to let you show off your expertise in one particular subject. They have more than 500 categories, from the periodic table to the summer Olympics to
How I Met Your Mother
. Pick one, get an opponent (either a stranger or challenge a friend), and answer seven questions. The app is available worldwide, and it's been fun to challenge and be challenged by people in other countries. How is any of this like a video game? Well, you level up in each category as you play it. As you attain higher levels, you pick up achievements and nicknames (I'm currently referred to as "Gastronome" for getting to level 10 in "Food"). The game keeps track of your stats, letting you know what categories you excel in, and even giving you a special banner if you're a particularly noteworthy player in your region. I don't want to brag, but I'm one of the top people in Missouri for answering questions about
Assassin's Creed
. The line to hang out with me forms at the left.
Device 6: A-
QuizUp: B